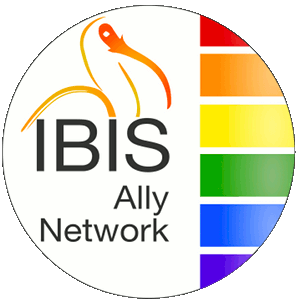 The purpose of the IBIS (I Believe In Solidarity) Ally Network training program is to create a network of allies to the lesbian, gay, bisexual, transgender, and queer/questioning (LGBTQ) community. An IBIS Ally is a person (not a place) who is informed about and supportive of LGBTQ+ concerns, respectful of confidentiality, and willing to help LGBTQ+ people find resources when needed. IBIS Allies include both members of the LGBTQ+ community and heterosexual allies.
Faculty, staff, administrators, and students who display the IBIS Ally symbol in their offices or elsewhere are part of the IBIS Ally Network. They have completed an intensive training session on how to be an advocate and resource for LGBTQ+ students, and they've pledged to promote a campus community that is inclusive, supportive, and equitable for people of all sexual orientations and gender identities and expressions.
Support for LGBTQ+ people is at an all-time high, but many in the community still struggle with accepting and embracing their identity. As a population they are at a higher risk for mental health, family, and academic problems. The IBIS Ally Network is a visible group of people who are willing and able to help.
Please visit IBIS Ally Training Dates for more information on IBIS Ally Trainings and the next scheduled training sessions.